!- ここでのタイトルは、タイトルバーに表示されます。->
Master Kabuto
Pleae note: All photos on this page are copyrighted by Mr. Kouhei Mizukami.
Do not copy without written permission!!!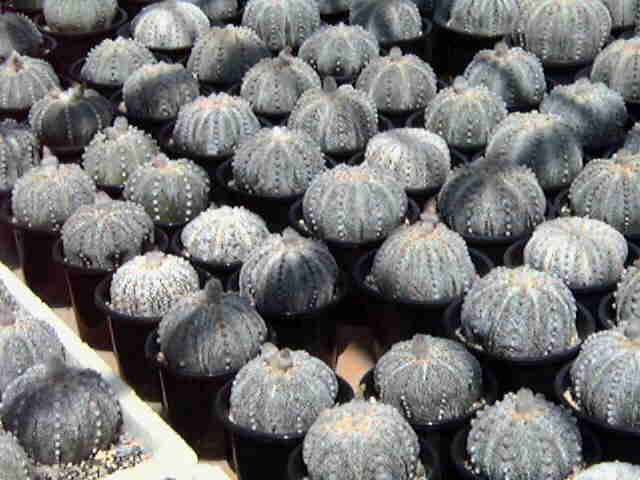 A splendid collection (Mr. Wakisaka)
---
There are many distinct forms of Kabuto in Japan which were produced by many famous Kabutophiles. In fact, so many new forms have been introduced by Kabutophiles that no one could enumerate all of them.Many of the photographed plants on this page come from northern Japan. Of course, many other outstanding Kabuto forms exist in other regions. Unfortunately, I have no idea where one might purchase or obtain these beautiful Kabutos. I suggest, however, that in the tradition of the Japanese Kabutophiles, you expend the time and energy to create your own splendid Kabutos.
---
Mr Ito, Yamagata prefecture. In Japan, this form is called "TEXAS TYPE." He also has produced many good HANAZONO Kabuto

Mr. Iwata, Saitama prefecture. He is the president of "NIHON KABUTO KYOUKAI" (Japan Kabuto enthusiast group). He is also famous for his Kitsukow Kabuto.

Mr. Ouchi, Chiba prefecture. This form is distinguished by it's rough white flecks.

Mr. Wakisaka, Toyama prefecture. This plant is grafted on Astrophytum ornatum. It's body color is heavily whiteish. Another fine Kabuto.,

Mr. Watanabe, Fukushima prefecture. This body color is also pure white with raised nap.

Mr. Yamakawa, Tochigi prefecture. His very whitish Kabuto is also splendid.one. And his Astrophytum myriostigma var. strongylogonum is also famous.

Mr. Yatagai, of Saitama prefecture is one of the most famous Kabutophiles. Other Kabutos by Yatagai include: series infinity, series 'Z' and series 105Y. His MIRACLE-F1 and MIRACLE-A are his most famous ones.

Mr. Hasegawa, Toyama prefecture. Another of his Kabuto's also has very white flecking.


Mr. Mizukami, Tochigi perecture. He is a most recent Master of Kabuto.
Left Kabuto is descended from Mr. Ito's Kabuto. And has a lineage from Mr. Iwata. Also has a linegae from Mr. Teramachi.
---